Cincinnati Pool and Patio – Batavia's Premier Backyard Living Experts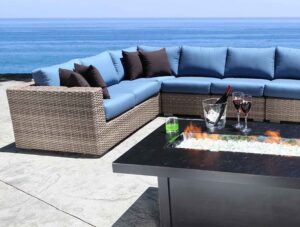 When Batavia needs outdoors solutions, Cincinnati Pool and Patio has it all. From pool installations to a variety of other patio and outdoor services, your dream patio is just a phone call or a visit away. Grills, patio furniture, and spas are just some of the many options you can find at Cincinnati Pool and Patio.
Professional Pools for Batavia
Your pool is the centerpiece of your backyard. Cincinnati Pool and Patio has all the products you need for your summer experience, with the experts to help.
Inground Pools
It's not necessarily the pool itself, but the quality of the installation and installer that matters when it comes to inground pools. Cincinnati Pool and Patio has a variety of inground pool options to choose from. Batavia homeowners choose us for their inground pools thanks to our extensive repertoire and reputation for quality installations. In fact, over 50% of our business comes from referrals. We're proud to offer the best service possible for inground pools and strive to make every customer happy.
Above-Ground Pools
For those who don't necessarily have the space or the funds for an inground pool, above-ground pools are a popular alternative. They can be customized to fit any backyard aesthetic with a variety of decking and landscaping options. Cincinnati Pool and Patio is a leader in quality above-ground pools for Batavia residents. We even have many options for alternate water sanitation systems, lighting, ladders, and slides to customize your above-ground pool. Stop in today and ask us how we can make your above-ground pool your summer staple.
Pool Accessories
Liners, covers, cleaning accessories and pool toys are just some of the pool accessory options that Cincinnati Pool and Patio offers. You can find options for chlorine, saltwater sanitation systems, and other chemical products in our stores to keep your pool performing its best. Never again do you need to drive all over town to search for the right chemicals and other pool products. We also have dedicated pool experts available if you have questions on the right accessories for your pool. You'll get the best, most professional advice every time.
Pool Openings and Closings
Trying to open or close your pool at the start or end of the season by yourself can be tough. We can take care of the process for you, so you don't have to worry about a thing. Schedule your pool opening or closing with us today to take the stress out of your summer. We'll handle the foundation, water, filters, chemicals, attachments, and other components in the process for you.
Batavia's One-Stop Patio Shop
Your patio is your little slice of paradise in your backyard. Choosing the right outdoor furniture and décor can turn your backyard from boring into the perfect relaxation and entertainment space. Batavia homeowners come to Cincinnati Pool and Patio for our large selection of patio furniture and outdoor solutions.
Great Grills for Batavia
Summer isn't complete without barbecues! Cincinnati Pool and Patio boasts a large selection of grills and grilling accessories for Batavia residents. Peruse leading brands such as Firemagic and Napoleon and ask our grilling experts questions to make your next cookout experience a breeze.
Hottest Batavia Hot Tubs
A relaxing spa getaway in your own backyard is within reach at Cincinnati Pool and Patio. Batavia residents flock to us to choose the perfect hot tub for their backyard. We have a variety of sizes, colors, brands, and price points with a bunch of optional features to choose from. There's the perfect spa for everyone at Cincinnati Pool and Patio.
Outdoor Solutions for Batavia
We have a simple, four-step process to creating the perfect outdoor space that Batavia residents love. Simply walk in and  speak with one of our outdoor design consultants. Discuss your vision with them and then we'll draft up a plan for your perfect outdoor oasis. Once you approve the design, that's it! We'll take care of the building and landscaping. When it's all done, you'll have a backyard space you won't ever want to leave!
Batavia Chooses Cincinnati Pool and Patio for All Outdoor Needs
Whether you're looking to add a pool to your backyard or seeking the perfect barbecue buddy, Cincinnati Pool and Patio has everything you need for your spring and summer. Batavia homeowners consistently choose Cincinnati Pool and Patio; we've been serving the community since 1966. Our backyard, grill, spa, and pool experts are consistently available to help with any outdoor problem, big or small. Come visit us or contact us today to get started.