Cincinnati Pool and Patio – Anderson Township's Backyard Professionals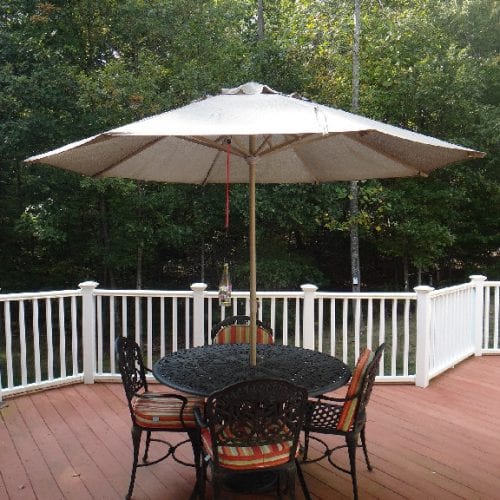 From pool installations, openings, and closings, to spas, grills, and patio furniture, Cincinnati Pool and Patio has everything that Anderson Township homeowners need to make their outdoor space a perfect addition to their home. Whether you need an above-ground pool, complete backyard remodel, or just some chemicals to keep your spa in top shape, you'll find what you need with Cincinnati Pool and Patio, along with friendly customer service professionals to get you the right product every time.
Anderson Township's Top Pool Services
Whether you're looking to add a pool to your property, or have owned a pool for years, Cincinnati Pool and Patio guarantees that your summer will be one to remember with our high caliber of service for all your pool needs.
Inground Pools
When it comes to installing an inground pool, it's not necessarily the type of pool that matters, but the skill of the installers. Cincinnati Pool and Patio has a wide variety of pool types to choose from, with the expertise and experience in installation to back it up. Anderson Township residents choose us first over all the others—in fact, over 50% of our business comes from referrals, so you know you're getting a quality installation and product.
Above-Ground Pools
Above-ground pools are an option for homeowners who want to add a pool to their yard but might not have the space or the finances to commit to having an inground pool installed. There are a variety of decking and landscaping options that will make your above-ground pool utterly unique. There are even options for alternative chlorination systems, lighting, ladders, or slides to customize y our pool in endless possibilities. Cincinnati Pool and Patio is the expert for Anderson Township when it comes to above-ground pools.
Pool Accessories
Liners, covers, cleaning accessories, and pool toys are just some of the many pool accessory options you can find at Cincinnati Pool and Patio. Chlorine, saltwater sanitation systems, and other chemical products are available in our stores to keep your pool performing its best. You don't have to go all over town to search for the right equipment for your pool. Our sales professionals are knowledgeable and can make recommendations for any pool situation, so you won't go uninformed.
Pool Openings and Closings
It can be difficult to open or close your pool by yourself. Starting or ending the season off on the right note can make or break your pool maintenance. Cincinnati Pool and Patio can open or close Anderson Township pools, so homeowners don't have to stress. Just sit back and enjoy your pool, we'll take care of chemicals, filters, attachments, and other maintenance tasks for you.
First Choice for Anderson Township Patios
Your patio should be a backyard oasis for your family. Furnishing it with the right furniture and décor can take your patio from humdrum to a perfect getaway. Anderson Township relies on Cincinnati Pool and Patio to have the largest selection of patio furniture that will fit any backyard aesthetic or need.
Grilling Experts in Anderson Township
Host your family and friends for a delicious barbecue thanks to Cincinnati Pool and Patio's wide selection of grills and grill accessories. We have many different brands and types to choose from. Firemagic, Napoleon, and more are all available to go home to your patio. Anderson Township chooses us to supply them with the perfect grill to make summer special.
Hot Hot Hot Tubs in Anderson Township
If you want to relax in your own private spa in your backyard, Cincinnati Pool and Patio has what you need. Anderson Township residents come to us to peruse our selection of hot tubs and spas at a variety of price points. Just choose your brand, color, feature, or size, and we'll get the hot tub that's right for your family.
Anderson Township Outdoor Solutions
When Anderson Township residents want to turn their outdoor space into a magical getaway, we're the first they call. Cincinnati Pool and Patio has a simple four-step process to turn your backyard concepts into reality. Simply come in and meet with one of our consultants to discuss your outdoor vision. We then draw up plans for your space, and with your okay we get to work on building your dream space! Sit back and relax and in no time, you'll be enjoying the perfect outdoor hideaway right in your own backyard!
Anderson Township Trusts Cincinnati Pool and Patio for All Outdoor Needs
From the best backyard barbecue to your brand-new pool or spa, Cincinnati Pool and Patio has everything that you need to turn your backyard into the perfect entertaining space. Anderson Township residents consistently choose us for our wide selection of products, expertise, and dedication to our customers. Since 1966 Cincinnati Pool and Patio has been serving the Greater Cincinnati area with help with their hot tubs, pools, grills, patios, and more. Check us out for yourself and see why we're the local expert! Contact us or stop in to our store!